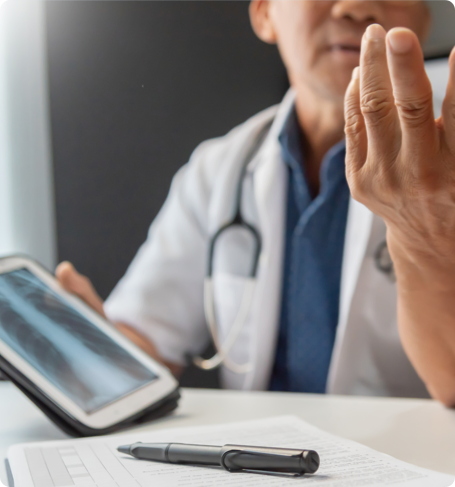 Health Screening
Results Review
Review of your health screening results completes your health screening with us.
We encourage a complimentary teleconsult with our doctors for added convenience. We will review your results and recommend lifestyle changes. Where necessary, we may arrange to see you at our clinics.
Face to face review at Paragon or any of Minmed clinics is available for MAS staff. Please email us at [email protected] to schedule an appointment.
Book your appointment for a teleconsult review with our doctors for your health screening report:
1) Download Minmed Connect mobile app
2) Register your account in Minmed Connect
3) Click "See Doctor" on the Dashboard
4) Click "Videoconsult Appointment" and book your appointment
On the day of your appointment:
Simply open the app and click: See Doctor > Videoconsult Appointment > Click on the call button. 
A doctor will pick up your call for the teleconsult review. During the consultation, we will explain the nature of the findings, necessary lifestyle changes as well as appropriate referral or follow-up, if any.
No definite diagnosis may be made from health screening test results alone, and test results should be correlated with your medical history and other clinical findings.
Screening tests may carry limitations in the capacity to identify or rule out the presence or absence of a condition. Normal health screening test results may not necessarily mean the absence of a medical condition.
The majority (about 95%) of a normal population test results will fall within the normal range. About 5% of the normal population test results may be slightly above or below the normal level.
It is an acceptable fact that a normal person's health screening test results may fluctuate at different times although still within the normal range. This occurrence may be due to diet or other factors.
Frequently Asked Questions
Using our portal
Health screening registration may be conducted via our portal.For health screening at Minmed Health Screeners in Paragon, you may register for your screening appointment here.
If you are registering for screening at your office, please refer to the unique registration link sent to you via your HR and/or Wellness committee.
Your electronic health screening result may be retrieved 24/7 via our secure portal here. Please note that 2 Factor Authentication via SMS OTP to your registered mobile number is necessary before report retrieval.