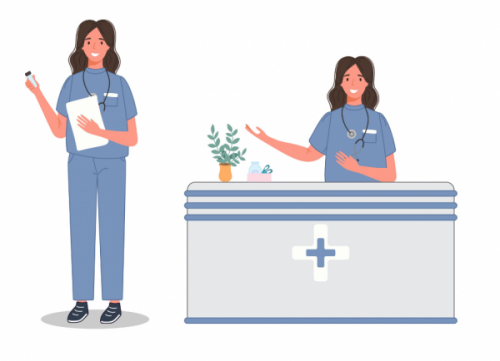 Corporate Clinic Health Screening
Classic Health screening at clinic. Get your clinic health screening done conveniently at selected Minmed clinics islandwide, all within 45 minutes. Choose from 6 comprehensive packages. 
Minmed Yishun
1 Yishun Ave 2, #02 - 153, Northpoint, Singapore 769098
Minmed Jurong West
(24-Hr Clinic)
1 Jurong West Central 2, #01-17E/F/G/H, Jurong Point, Singapore 648886
Minmed Paya Lebar
10 Eunos Road 8, #02-122, Singapore Post Centre, Singapore 408600
Minmed Orchard
304 Orchard Road #05-44, Lucky Plaza Medical Suites, Singapore 238863
Minmed Marine Parade
80 Marine Parade Road #05-21, Parkway Parade, Singapore 449269
Minmed Jurong East
50 Jurong Gateway Rd #04-17, JEM, Singapore 608549
Minmed Punggol
83 Punggol Central #02-15, Waterway Point, Singapore 828761
Minmed Haig Road
30 Haig Road, Singapore 438737
Minmed Pasir Ris
1 Pasir Ris Central Street 3 #05-09, White Sands , Singapore 518457
Minmed Sengkang
1 Sengkang Square #04-13, Compass One, Singapore 545078
Dayspring Tampines
2 Tampines Central 5 #04-09, Century Square, Singapore 529509
Minmed Ang Mo Kio
53 Ang Mo Kio Avenue 3, #03-25, AMK Hub, Singapore 569933
Minmed Clementi
3155 Commonwealth Ave W, #04-07 The Clementi Mall, Singapore 129588
Minmed Bedok
311 New Upper Changi Road #01-47, Bedok Mall, Singapore 467360
Minmed Woodlands
6 Woodlands Square, #09-06, Woods Square, Singapore 737737
Minmed Marina Bay
8A Marina Boulevard #B2-73/74 Marina Bay Link Mall, Singapore 018984
Minmed Boon Lay
221 Boon Lay Place, #01-108. Boon Lay Shopping Centre, Singapore 640221
Minmed Redhill
12 Alexandra View, #01-16 ARTRA, Singapore 158736
Frequently Asked Questions
Non-Fasting
The Non-fasting Health Screening approach ensures that you can prioritize your health without sacrificing your comfort.
You can skip the need to plan around meal schedules or feel hungry and fatigued during the screening, and still get accurate results.
It also reduces the risk of hypoglycemia in patients with diabetes.
Yes they are, local studies have shown no significant differences between fasted and non-fasted blood samples for cholesterol levels. HbA1C for glucose monitoring is also a well-established test.
While it is not necessary to fast, we will advise avoiding alcohol or a heavy meal just before your blood test.

If you are going for a Treadmill Stress Test, certain blood pressure medications such as beta-blockers may need to be stopped prior to the test. You should not smoke or drink caffeinated drinks at least 3 hours before the test.
HbA1C is used to screen for diabetes. HbA1C tells us the blood glucose control over the last 3 months by measuring sugar molecules attached to your red blood cells. Concurrently, a non-fasted random blood glucose level is run. The normal cut-off for random blood glucose will be different from fasted blood glucose. 
If your random blood glucose or HbA1C is abnormal, you may be required to do fasting blood glucose to confirm the diagnosis of diabetes or prediabetes.
There should be no significant difference in your cholesterol levels between the fasted and non-fasted blood samples. The cholesterol levels would be interpreted as normal.
Abdominal Ultrasound requires at least 6 hours of fasting before the procedure.
If you are planning to go for an abdominal ultrasound, please ensure that you have fasted for the recommended time period before your scheduled appointment.
If your HbA1C is borderline or your random glucose is high, your doctor may advise you to do a fasting glucose to confirm the diagnosis of diabetes or prediabetes.
If your triglyceride level is extremely elevated, your doctor may advise you to do a fasted lipid panel.