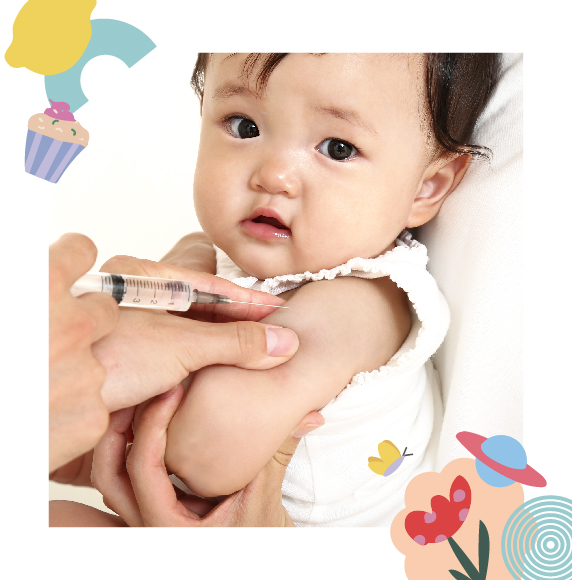 Homebased Baby Vaccination
Complete your child's vaccinations in the comfort of your home. Let our mobile teams conduct childhood development assessments and deliver mandatory and optional vaccines at your convenience.
No unnecessary exposures at clinics, no physical waiting times, full clinical service with updates to the National Immunisation Registry.
Why not?
| AGE | VACCINE | PRICE (incl. GST) |
| --- | --- | --- |
| | | |
| | 5-in-1 (2nd Dose), PCV13 (1st Dose) | |
| | 6-in-1 (3rd Dose), PCV13 (2nd Dose) | |
| | PCV13 (Booster), MMR (1st Dose), Varicella (1st Dose) | |
| | MMR (2nd Dose), Varicella (2nd Dose) | |
| | | |
| | Childhood Development Assessment (CDA) | |
| | | |
| | | |
5-in-1 – Diphtheria/ pertussis/ tetanus (DPT), polio, and haemophilus influenzae type B (Hib)
6-in-1 – Diphtheria/ pertussis /tetanus (DPT), polio, haemophilus influenzae type B (Hib), and Hepatitis B
PCV13 – Pneumococcal conjugate
Varicella – Chicken Pox
MMR – Measles, Mumps and Rubella

Frequently Asked Questions
Homebased Baby Vaccination
Homebased vaccination can be a convenient option for you if you have concern about exposing your baby to potential infections in a clinic, or if you prefer the comfort and privacy of your own home.
Homebased vaccination is typically administered by our trained healthcare professionals, such as staff registered nurses and our Singapore Medical Council registered doctors. They are knowledgeable about vaccine administration and can ensure safe and effective vaccinations.
The costs are as reflected in the fee schedule above and include cost of transportation, consumables, equipment as well as administrative task of updating the National Immunisation Registry.
We will send a reminder to you before the scheduled appointment. During the appointment, a healthcare professional will administer the vaccines according to the recommended schedule. They will also provide information on potential side effects and post-vaccination care.
Ensure that the area where the vaccination will take place is clean and comfortable. Have your baby's medical records and a list of any allergies or previous adverse reactions to vaccines ready for the healthcare professional.
Yes, you can always choose to have your baby vaccinated at our Minmed Clinics. You can opt to have some milestones completed at home and the others at our clinics as we use a centralised medical records information system, and have access to National Immunisation Registry, we will be able to continually keep track of administered vaccines.
If a scheduled vaccination is missed, parents should consult with us to catch up on the missed doses. It's essential to maintain the recommended schedule to ensure optimal protection.