As the national vaccination program is ramping up, more people are eligible to get vaccinated. Let us take you through our COVID-19 vaccination centres to let you experience how the vaccination journey is like with us.
Before you enter the vaccination centre
Get a Queue number and wait for your number to be called. 
Participants are ushered into our COVID-19 vaccination centre through a streamlined process, to adhere to safety distancing protocols by not overcrowding in the centre. Elderly participants that require assistance can enter through a priority queue. 
Friendly User Journey lines, from start to finish
We placed thoughtfully designed User Journey lines that help you along the COVID-19 vaccination journey, so you won't get lost and know where to head to after each station. Our friendly ushers are also there to help! 
Electronic Notification Board at the vaccination booths
Electronic notification board lights up when the vaccination booth is available. Each booth is visibly labelled to ensure you head to the correct booth. A lit up box signifies that the booth is occupied, this ensures that the ushers will direct you to an unoccupied booth!
Trained Vaccinators at each booth
Needles are often a terrifying thing to face, hence we want it to be a painless experience for you. Our vaccinators are trained to ensure that happens. 
Where is your vaccine stored?
Our COVID-19 vaccines are safely stored onsite using state-of-art 𝐦𝐞𝐝𝐢𝐜𝐚𝐥 𝐠𝐫𝐚𝐝𝐞 𝐫𝐞𝐟𝐫𝐢𝐠𝐞𝐫𝐚𝐭𝐨𝐫𝐬 to maintain consistent storage temperature (within 2°C to 8°C) ensuring that the quality of the COVID-19 vaccines are not compromised.
Friendly and Experienced staff at each Station
Our dedicated team of medical personnels are always ready to attend to any concerns that you may have.
Professional Medical Staff on standby
All our COVID-19 vaccination centres have Doctors and Nurses on standby to respond to any medical emergencies or queries you have about the vaccination.
Socially-Distanced Observation Areas
To adhere to the safe distancing measure, our observation areas are all spaced out 1m apart, so you can sit and enjoy the soothing music worry free, while waiting for the 30 minutes observation to be up.
While you are under Observation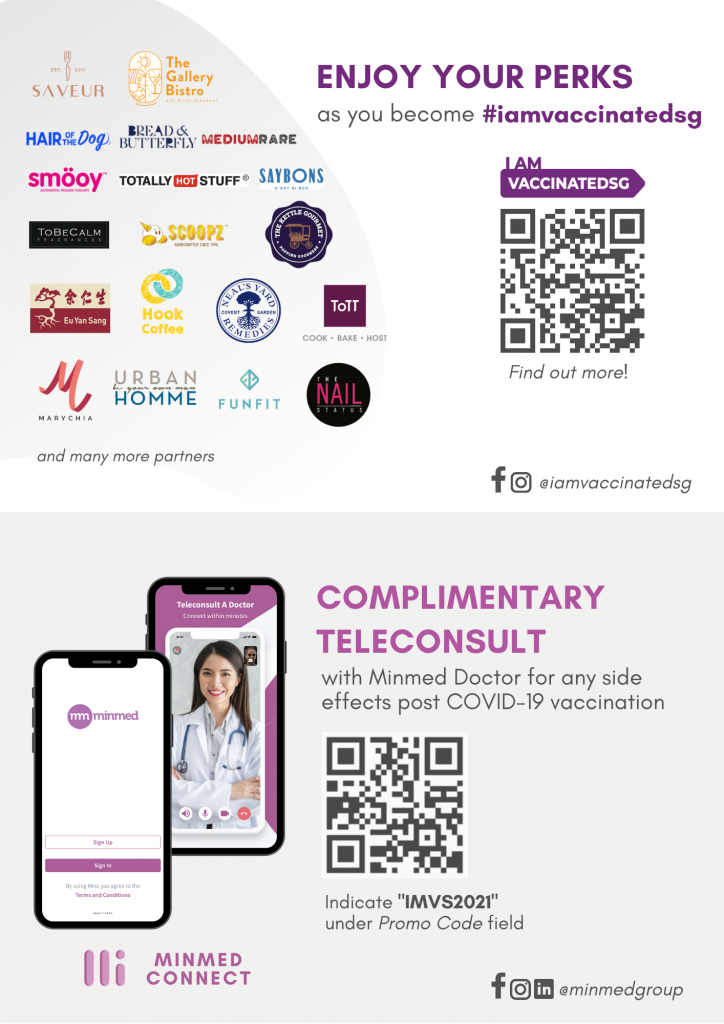 Browse through all the perks available to you when you are vaccinated and get complimentary teleconsult on all vaccination symptoms with us! For more information on the perks , visit https://minmed.sg/iamvaccinatedsg/
Easy Discharge 
Our staff will call out your name when your 30 minutes observation is up, and you can proceed to complete the discharge process. Don't forget to set a reminder for your second jab if this is your first time.
Rovering Discharge stations.
We have rovering discharge stations for participants that have mobility issues. The discharge rovers will assist said participants so they do not have to head over to the discharge station, making the whole discharge process an ease for them.
Our #IAMVACCINATEDSG Selfie Wall
All our vaccination centres have a selfie wall for you to take a picture of you and your friends after your vaccination. Take a picture and tag #iamvaccinatedsg and join in the movement to encourage more people to vaccinate!
Get Vaccinated, Get Rewarded
Being vaccinated against COVID-19 has its privileges. Distinguished merchants have come together to offer special deals for everyone that has done their vaccinations, to encourage more people to get vaccinated. Check out the perks of being vaccinated here: https://minmed.sg/iamvaccinatedsg/
Complimentary Teleconsult on Minmed Connect
Experiencing side effects arising from the COVID-19 vaccination?
We got you covered with Complimentary Teleconsult! All you need to do is download Minmed Connect (iOS/Android) and teleconsult a Minmed Doctor at the comfort of your own home!
For more information about the COVID-19 Vaccination, please visit MOH : https://www.moh.gov.sg/covid-19/vaccination